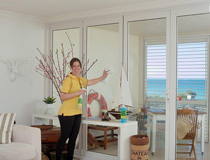 A house cleaner service on the Gold Coast – QLD  offers the best house cleaner price, is tailor made to your needs and your budget, with a 100% customer guarantee of satisfaction, and with more than 20+ years of being affordable, reliable and friendly, using Bebrite's environmentally safe cleaning products.
A Bebrite house cleaner on the Gold Coast offers prompt over the phone or on-line house cleaner quotes. Bebrite house cleaner teams on the Gold Coast can provide a regular house cleaner, a move out house cleaner, a one-off house cleaner, a house spring cleaner, or any other house cleaner service you require. Our teams provide house cleaner services to more than 100,000 customers.
Gold Coast House Cleaner with our 100% customer satisfaction guarantee 
CONTACT US

---
BEBRITE WILL TAILOR MAKE OUR HOUSE CLEANER QUOTE TO MEET YOUR NEEDS AND YOUR BUDGET – CHECK LIST
Bebrite offer the best price and the best service for a house cleaner on the Gold Coast
Over 20+ years' experience in the cleaning industry
100% customer satisfaction guarantee
Professionally trained and fully insured cleaners
We only use our own environmentally safe, Australian made Bebrite cleaning products
Free quote 1300 131 664 or on-line with 24 hour customer service
Our services cover all Gold Coast Suburbs
All our teams are trained to provide you with an exceptional house cleaner service. They will be flexible in providing a quote to meet your budget and to provide their service at a time that suits you. Our Gold Coast cleaning services can be tailor made to suit your budget and at a time that is convenient to you.
Bebrite House Cleaners on the Gold Coast offer a truly professional house cleaner service
Bebrite offer an affordable way to make your home spring back to life. Our teams are committed in providing each customer with superior house cleaner service and an immaculate clean.  
If you would like a quick on-line quote 
The Gold Coast in Queensland is a very extensive area just south of Brisbane and expands from Beenleigh down south to Coolangatta and has a population exceeding 500,00. It is famous for its long sandy beaches, surfing and a massive infrastructure of canals and waterways. Many of these support massive houses with personal jetties and many boating facilities. It has a large theme park area which brings a lot of tourism to the area. The Gold Coast area encompasses an area of 57kms along a pristine coastline and is considered one of the most desirable places in the world to live.
Coolangatta is the gateway to the Gold Coast as it has an International airport provided by over 30 airlines and it boasts 287 days of annual sunshine. The close proximity to the city of Brisbane makes it accessible by rail or road with just 42 kms to travel to work.
Working couples, young families and professional people who live in the Gold Coast area can take advantage of having a house cleaning service to assist their daily lives. Why have a house cleaning service on the Gold Coast? It provides a peace of mind, a life style choice and a common sense approach to modern living. Bebrite has been providing high quality house cleaning services on the Gold Coast for many years. House cleaning services can take care of customers who require a regular weekly house cleaning service or a fortnightly house cleaning service and in addition Bebrite can provide a house cleaning service which includes one off house cleaning service, or a bond return cleaning service with oven cleaning, or a window cleaning service and carpet cleaning service. Bebrite's attention to detail from over 20+ years of house cleaning experience as a national company offering quality house cleaning services with a quality guarantee of customer satisfaction, will delight the customers of the Gold Coast.
There is a high demand for Bebrite house cleaning services on the Gold Coast. Complete customer satisfaction is guaranteed for all Bebrite's house cleaning services.
Bebrite House Cleaner teams on the Gold Coast take pride in their work and offer an excellent house cleaner service.
For a house cleaner or for more information