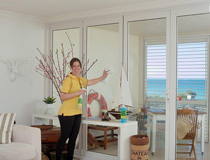 A house cleaning service in North Sydney that offers the best house cleaning prices with regular house cleaning BEST QUOTE, BEST SERVICE and a 100% customer guarantee of satisfaction. Bebrite has been servicing North Sydney for more than 28 years, offering an affordable, reliable and friendly cleaning service, using only Bebrite's environmentally safe cleaning products..
Bebrite can provide many different types of cleaning services from one off house cleaning, end of lease, bond cleans, pre-sale cleans and move in cleans. We are also proud cleaning service providers to many Aged Care and Home Care organisations, taking good care of your loved ones. Bebrite also provides oven cleaning, window cleaning, carpet cleaning, leather and upholstery cleaning, housekeeping duties.
Bebrite is a genuine Australian company, using Australian made for Bebrite safe cleaning products and bring simply the best cleaning service to the people of North Sydney.
Bebrite's North Sydney house cleaning teams are trustworthy, reliable, fully trained by Bebrite, fully equipped by Bebrite and all Bebrite house cleaning teams are fully insured under a national Bebrite insurance policy for Public and Product Liability, any claim is managed directly by Bebrite.
Contact Us Now
WHAT WE DO – Specialists in  North Sydney Home Cleaning Services
A Bebrite North Sydney Home Cleaning Service -Tailor made to your home cleaning needs and to meet your budget
From $80.00 for a Hills District regular house cleaning service
Trusted and fully insured Hills District house cleaners
Bebrite in The Hills District provide cleaning services to Disability, Aged Care and Home Care organisations
Proven house cleaning service – your home in The Hills District will be sparkling clean
No agents, no commissions, pay our Hills District house cleaner team direct on completion
Our quote will be tailor made to fit your budget
We offer the most extensive range of house cleaning services in The Hills District
Talk directly with Bebrite's Head Office on 1300 131 664 and discuss your house cleaning needs in The Hills District
Our Home Cleaning Service in North Sydney commitment: Bebrite offers the most experienced home cleaning service available in Australia with more than 28 years experience. We offer prompt over the phone or on-line home cleaning service quotes and deliver the best possible cleaning service at the most affordable price.
Home Cleaning Services in all North Sydney areas
Our commitment is to meet your home cleaning expectations in North Sydney with our 100% customer satisfaction guarantee:
Our North Sydney home cleaning service is all about providing you with the very best and affordable home cleaning. Our 100% customer satisfaction guarantee supports our reputation for high quality home cleaning in North Sydney and exceptional attention to detail.
SPRING HOME CLEANING: Put a spring into your step with a Bebrite Spring Clean. Everything you want and need to make your home in North Sydney immaculate. A totally professional, thorough, affordable, best ever home cleaning service. All equipment and environmentally safe cleaning products supplied, and insurance protection you can depend on with any problems managed by Bebrite.
At Bebrite, SPRING means just one thing – a spring home clean means thoroughly cleaning a home, apartment or unit. A spring home clean means getting into all those corners that haven't been touched for years. It means getting up on top of cupboards and door frames; it means removing cobwebs throughout the home, cleaning the skirting boards, picture frames, cleaning behind and under the furniture, it means cleaning the fronts of cupboards, inside the fridge, on top of the fridge; it means cleaning the oven and the exhaust fan. Spring home cleaning will get your home in North Sydney into tip top condition so that you only need a light regular home clean either weekly or fortnightly in order to kept your home looking fresh and clean.
A spring home clean in North Sydney can also mean cleaning all the windows in home, fly screens and window tracks, it also means cleaning door tracks and the laundry – removing lint from the dryer, from behind the washing machine. It means thoroughly cleaning the sink, cleaning the area underneath the sink, scrubbing the laundry floor.
A very detailed spring clean in North Sydney can also mean cleaning windows outside, verandas, balconies, eaves, by removing cobwebs, dust, dirt and grime. It can also mean exterior home washing, or hard surface cleaning of your driveway, patios and swimming pool surrounds.
REGULAR HOME CLEANING: Having a regular home cleaning service in North Sydney can give you peace of mind, satisfaction and an awesome experience when you come home to a professionally cleaned home. Bebrite is No.1 in Australia for an immaculate home cleaning service which will be tailor made to your needs and your budget, reliable and professional. Choose a regular home cleaning service and change your life today with a weekly home clean, a fortnightly or monthly home clean.
The difference between you doing your own home cleaning and having a professional do it for you – is time. You might be able to finish your home clean but it takes up half of your Saturday.
A professional Bebrite home cleaning team in North Sydney is trained to start and finish your home cleaning job quickly, efficiently, and at the best price, with the least amount of disruption to you and your family.
That's the joy of it; you come home to a sparkling clean home, which smells fresh and lovely. You now have the time to pursue the other things that matter to you.
Large homes, dual income families, working Mums, make having an affordable regular home cleaning service a necessity in many North Sydney homes.
Bebrite home cleaning teams are specially trained and equipped by Bebrite to carry out the most difficult home cleaning requests.
Bebrite home cleaning teams in North Sydney offer the best home cleaning prices and the best home cleaning service in Sydney 
No home cleaning in North Sydney job is too big, no home cleaning job too small, our teams are here to provide you with the best home cleaning service.
Bebrite Home Cleaning teams in North Sydney take pride inir work and offer an excellent home cleaning service.
For a home cleaning service in North Sydney or for more information