An Office Cleaning Service that offers the best office cleaning price, is tailor made to your office needs, your staff and your budget, with a 100% customer guarantee of satisfaction, and with more than 28 years of being affordable, reliable and friendly, using Bebrite's environmentally safe cleaning products.
Professionally trained and use Bebrite equipment
CALL NOW – 1300 131 664 or CONTACT US
All teams are fully insured nationally
All teams use Bebrite environmentally safe cleaning products
Best Price and best quality service
Office Cleaning: Having a clean and dust free environment in an office is so important for creating a better working environment and also to protect and minimize office born infections, so easily transmitted. It is also important to present the office working environment in the best possible light to visitors and business associates and to impress customers and clients. For this reason many office managers are engaging professional office cleaners to manage the office cleaning. Bebrite has been providing excellent office cleaning to thousands of offices for more than 28 years and in most Australian major cities from Sydney to Brisbane, to Melbourne, to Perth and large regional centres. With more than 200+ highly trained franchisees Bebrite can provide an excellent office cleaning solution and to work through with you the office cleaning schedule and scope of work, and to a budget that meets your expectation. Bebrite will provide the best possible solution for your office cleaning requirements and at the best possible cost.
Our commitment is to meet your office cleaning service expectation with our 100% customer satisfaction guarantee
---
Office Cleaning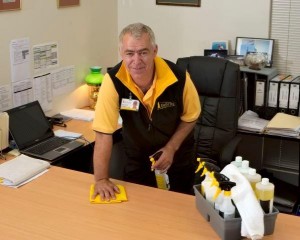 Regular Weekly, Fortnightly, or Monthly Office Cleans
Special office cleans on request
Desks and workstations
Sanitized cleaning of all bathrooms
Use of all environmentally safe cleaning products
Toiletries and paper supplies
General cleaning to detailed schedule – recorded
Vacuuming
Polishing
Dusting
Kitchen, canteen and lunchrooms – sanitized
Special – high security office areas
---
Bebrite is the preferred cleaning company for a number of prominent office buildings, offices and building sites of importance, and many real estate agents requiring a high quality office cleaning standard for their office rental properties, offices being re-leased and new offices. Bebrite's office cleaning teams can provide all the office cleaning services required, from office interiors, to end of lease cleaning, to office window cleaning, to office carpet cleaning, & even to office exterior cleaning.
---
BEBRITE OFFICE CLEANING SERVICE – "What we do"
For an office cleaning service or for more information