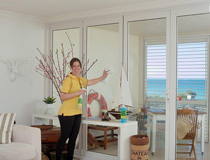 HOUSE CLEANING – Professionally – who likes house cleaning?
A reliable, affordable regular house clean can give you peace of mind, satisfaction and an awesome experience. Bebrite is No. 1 in Australia for an immaculate house cleaning service which is affordable, reliable and professional. Choose a weekly, fortnightly or monthly regular cleaning service and change your life today.

Let's face it there are not many people who really like house cleaning. It takes too much time, there are better things to do with your time, you would rather be outside enjoying the sunshine, you would rather be at the gym, you would rather be at the beach, you would rather be playing with your children, you would rather be having coffee with your friends or the big one – you would rather be at work! Bebrite house cleaning teams love to clean houses! It's their business so they take pride in a job well done.
House cleaning is a chore that really just has to be done and let's face it many of today's husbands, partners, flat mates are all happy to pitch in an give you a hand. But chances are they don't do it the way you want it done! So the best deal for you could be to have a professional house cleaner come in and do the house cleaning for you.
The difference between you doing your own house cleaning and having a professional house cleaner do it for you – is time. You might be able to finish your house clean but it takes up half your Saturday.
A professional Bebrite house cleaning team is trained to start and finish your cleaning job quickly, efficiently, and affordable with the least amount of disruption to you and your family.
That's the joy of it; you come home to a sparkling clean house, which smells fresh and lovely. You now have the time to pursue the other things that matter to you. Bebrite teams can achieve great results in your house cleaning needs whether it is a regular weekly house clean, a fortnightly house clean, or a magic one off spring clean.