Put a spring into your ste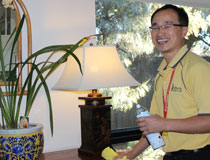 p with a Bebrite Spring Clean. Everything you want and need to make your house immaculate. Professional, thorough, affordable, exceptional. Best ever service, best ever price and best ever clean. All equipment and environmentally safe cleaning products supplied.
The definitions of SPRING are varied and diverse. It can mean 'move or jump suddenly' or 'arise, stem from or start with', or 'the time of the year between winter and summer' or a' plastic or metal coil.'
At Bebrite SPRING means just one thing – a spring clean means thoroughly cleaning a house, apartment or unit.  A spring clean means getting into all those corners that haven't been touched for years. It means getting up on top of cupboards and door frames; it means removing cobwebs throughout the house, cleaning the skirting boards, picture frames, cleaning behind and under the furniture, it means cleaning the fronts of cupboards, inside the fridge, on top of the fridge; it means cleaning the oven and the exhaust fan. Spring cleaning will get your house into tip top condition so that you only need a light regular clean either weekly or fortnightly in order to kept your house looking fresh and clean.
A spring clean can also mean cleaning all the windows in the house, fly screens and window tracks, it also means cleaning door tracks and the laundry – removing lint from the dryer, from behind the washing machine. It means thoroughly cleaning the sink, cleaning the area underneath the sink, scrubbing the laundry floor.
A very detailed spring clean can also mean cleaning windows outside, verandahs, balconies, eaves, by removing cobwebs, dust, dirt and grime. It can also mean hard surface cleaning of your driveways, patios and swimming pool surrounds.
A thorough spring clean of your house means we start at the top and work down. Firstly removing cobwebs from architraves, then dusting the next level down to picture rails or picture frames, window frames, door frames, then removing any marks on walls and finally down to dusting all the furniture and the last step is to clean the skirting boards. Every room in the house is cleaned in this way ensuring that there is no double handling or missed areas. During this process Bebrite teams use a range of environmentally friendly cleaning products, micro fibre cloths which are colour coded for safety and hygienic purposes.
Bebrite house cleaning teams use specific products for specific purposes. Bebrite's hospital grade  Lemon Disinfectant is used in bathrooms, on telephones and keyboards, light switches and door handles, this cleaning practice ensures there is no germ contamination and no cross infection from areas of most use.  In the bathrooms lemon disinfectant is used in the toilet, the seat, the lid and down the Sbend. A little lemon disinfectant is used in a bucket of hot water for mopping and also a little down the drain holes in the bathrooms and toilets to keep the rooms smelling fresh and clean. Bebrite's Total Bathroom is also an effective and efficient emulsifier used for the removal of soap scrum and fats in showers and baths. It is effective and efficient for cleaning of shower screens. In the kitchen areas Bebrite house cleaning teams use Bebrite's Spray and Wipe, a powerful degreaser for removing fat and grease from bench tops, cupboard fronts and splash back tiles. All mirrors, glass doors, glass coffee tables, chrome and laminates are cleaned with Bebrite's Crystal Clear Glass and Window Cleaner leaving a brilliant shine and lustre. The finishing touches are achieved by lastly vacuuming throughout and mopping floors with Bebrite's Neutral Cleaner.
The final result of a Bebrite Spring Clean is a house beautifully clean, sparkling and smelling fresh.